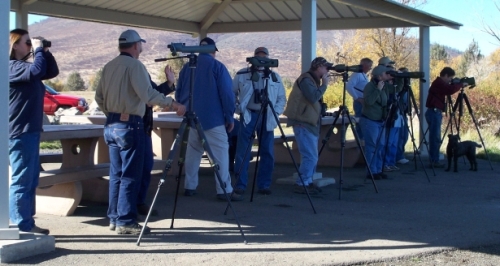 Watching Birds In California photo by Larry Jordan
A report released recently by the U.S. Fish and Wildlife Service shows that one out of five Americans watches birds. This activity contributed $36 billion in trip and equipment expenditures generating $82 billion in total industry output to the U.S. economy in 2006, the most recent year of economic data available.
The report titled "Birding InThe United States: A Demographic and Economic Analysis," presents information on the participation and expenditure patterns of 48 million birders in 2006. It shows that backyard birding is the most prevalent form of birding with 88% of birders watching birds from the comfort of their own homes. Forty-two percent of birders travel more than a mile from home to bird watch, visiting both private and public lands.
What is a birder? The National Survey uses a conservative definition. To be counted as a birder, an individual must have either taken a trip one mile or more from home for the primary purpose of observing birds and/or closely observed or tried to identify birds around the home.
The report is an addendum to the "2006 National Survey of Fishing, Hunting, and Wildlife-Associated Recreation," which includes extensive information on wildlife watching, hunting and fishing. Another addendum to this report is "Wildlife Watching in the U.S.: The Economic Impacts on National and State Economies in 2006" detailing the economic impact of all this wildlife watching on our economy. And finally "Wildlife Watching Trends: 1991–2006 A Reference Report," notes that roughly one out of three Americans, or 71 million people, participated in wildlife watching in 2006. More than four times greater than the attendance of all National League Football teams during the 2006 season! That's a lot of economic influence wielded by nature lovers!