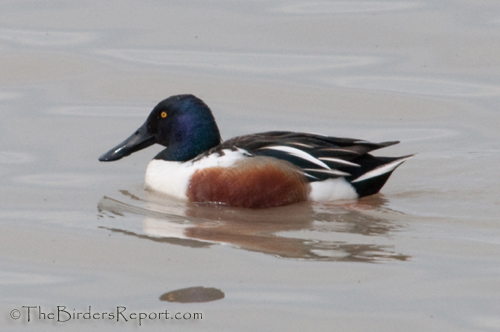 Northern Shoveler Male (Drake) all photos by Larry Jordan
Northern Shoveler Female (Duck)
This pair of Northern Shovelers was one of the many sites we were able to enjoy on an Audubon outing with our local Wintu Audubon group yesterday.  If you want to bird some great spots in your local area, contact, or better yet join, your local Audubon Society.  They will provide regular outings with experienced birders so you can not only see several bird species you may not otherwise encounter, you can quickly learn bird behavior and where the best birding spots are located.
This outing included a trip to Rancho Esquon, a private 900 acre working rice farm and Llano Seco, part of the Sacramento National Wildlife Refuge Complex in northern California.  I will be taking you to see more of the SNWR Complex in future posts.  See the map at the end of the post for the Llano Seco location.
We observed over 50 bird species at these two locations including such notables as the Eurasian Green-winged Teal, White-faced Ibis, Greater White-fronted Goose and this Golden Eagle being harrassed by the much smaller Red-tailed Hawk.
Golden Eagle Being Harassed By A Red-tailed Hawk
I could go on about all the beautiful sites we observed which also included the largest number of Black-crowned Night Herons I have ever seen.  Numbering nearly 100 birds, they were flying around their roosting trees in huge flocks.
But I digress.  This post is about the beautiful synchronized swimming I observed by the dabbling ducks at Llano Seco.  Dabbling ducks feed mainly on water plants by tipping up their rear ends (upending) in the shallows.  This feeding behavior always reminds me of the synchronized swimming event in the Olympics.  As you can see from these photos, the dabbling ducks could place well in the competition, beginning with the Northern Pintails.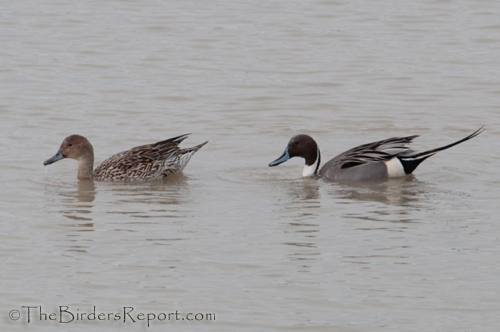 Northern Pintails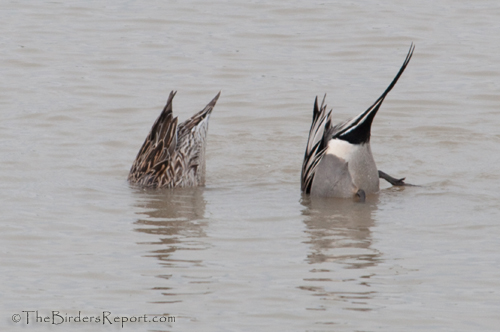 However, the Northern Shovelers took the gold this day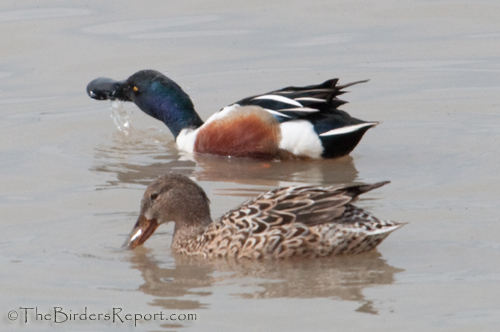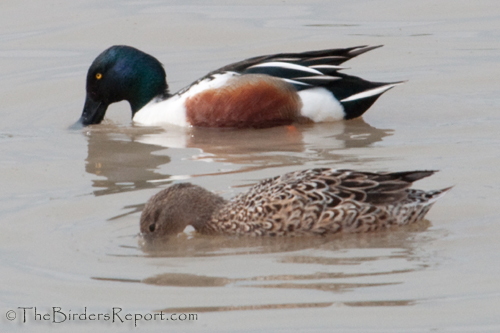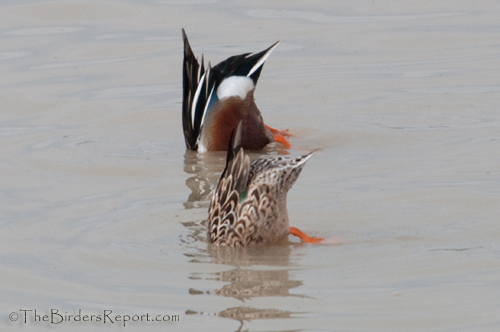 Here is the map I promised of the Llano Seco Unit of the Sacramento National Wildlife Refuge Complex.