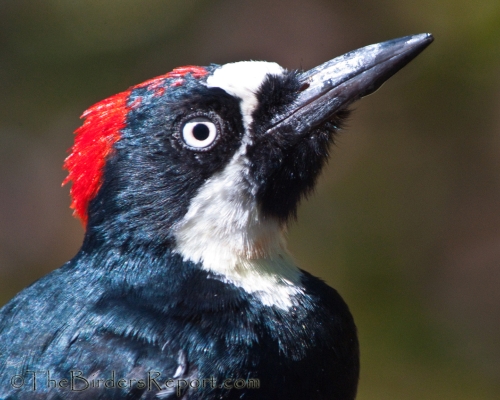 Acorn Woodpecker Juvenile Female photos by Larry Jordan
I haven't been able to do much birding lately.  I'm in the process of switching over from a PC to a Mac (anyone with advice on doing this please chime in).  Since I have this lovely Labor Day weekend, completely free of my regular job duties, I thought I would just enjoy the birds in my own backyard.
I sat on my porch with my digiscoping setup and had fun watching the birds and other animals as they went about their daily routines.  These images were all taken with the setup mentioned above but with a fixed 30x eyepiece.  Click on photos for larger size images.
The Acorn Woodpeckers were very active, bringing their young to the woodpecker feeder.  The juvenile female (above) was at the waterfall getting a drink.  Note the sparse red on the crown.  Male and female juveniles of this species both have solid red crowns similar to the adult male before going through their prebasic molt in the fall.  They also begin life with blue eyes that slowly turn to the white or gold color of the adult.  You can see her eyes are very pale and the red is disappearing from her crown.
Here is a photo of an adult female Acorn Woodpecker.  The red crown is separated from the white forehead by a wide black band and her eyes are a light gold color.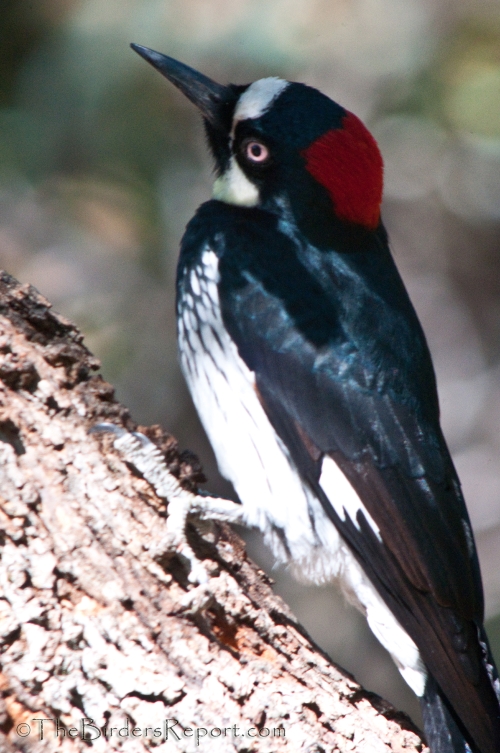 Near the feeder was a juvenile male posing nicely in the morning sun with pale blue eyes and his red crown beginning at his white forehead and extending to the nape.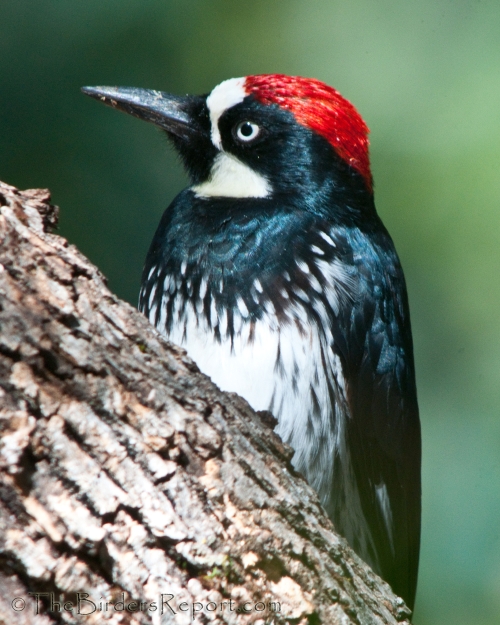 At one point he got excited at all the commotion around him and raised his crown momentarily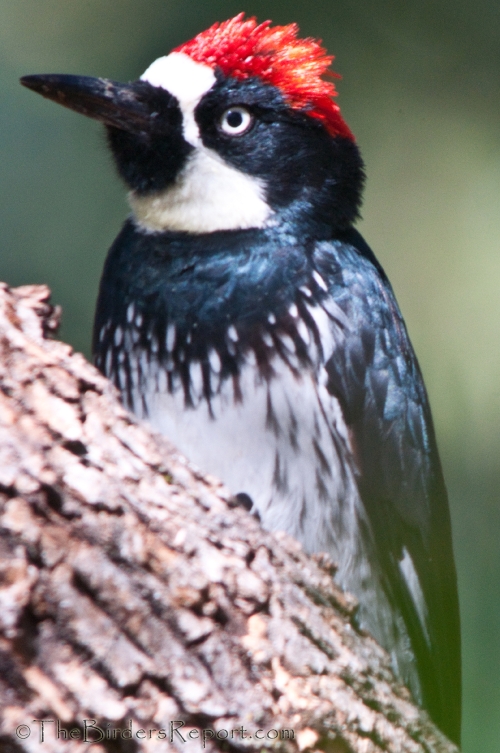 I think the Western Gray Squirrel running amok in the tree was the cause.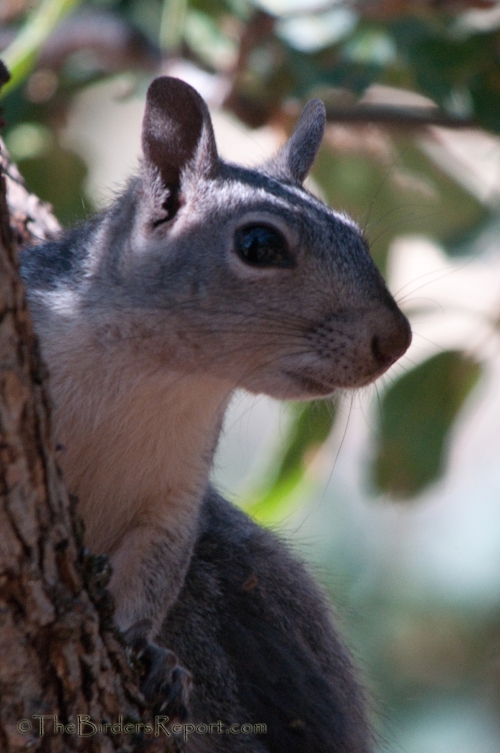 The Western Scrub-Jays and Mourning Doves were scavenging on the ground for fallen seeds, the scrub-jays filling up their beaks as usual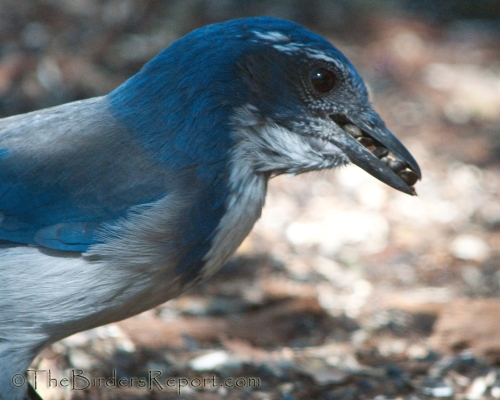 and the doves feeding in the shade of the oak trees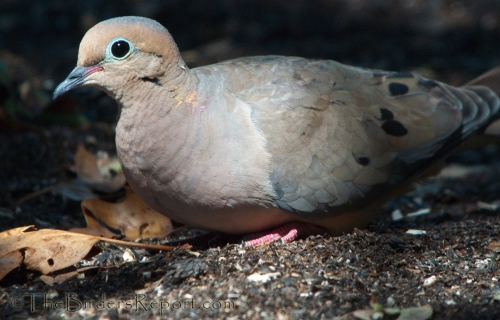 There were many animals and birds visiting the pond.  The squirrels, jackrabbits, and deer, California Quail and Anna's Hummingbird.  Here are a few I photographed, starting with one of my favorite cavity nesting birds, the Oak Titmouse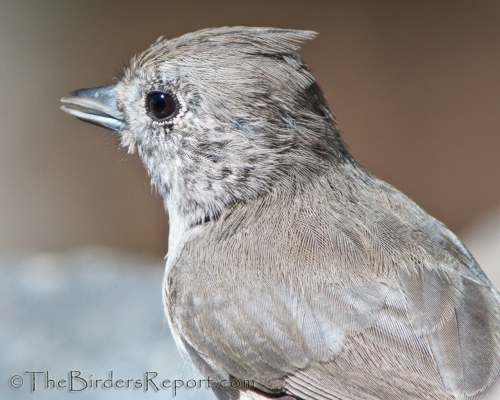 and the ever present Lesser Goldfinch.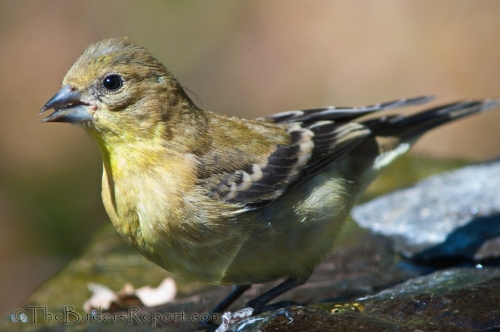 I hope you enjoyed the portraits from my porch.  All these birds are year round residents here and I am lucky to be able to watch them interact with one another throughout the seasons.
Here is one last look at the young female Acorn Woodpecker drinking from the waterfall, a taste of red, white and blue for Labor Day.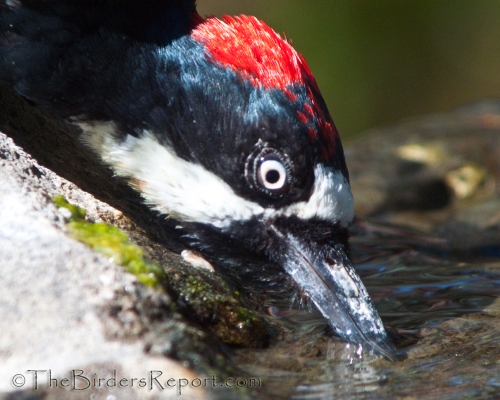 To see more bird photography from around the world, check out Bird Photography Weekly and join in the fun!