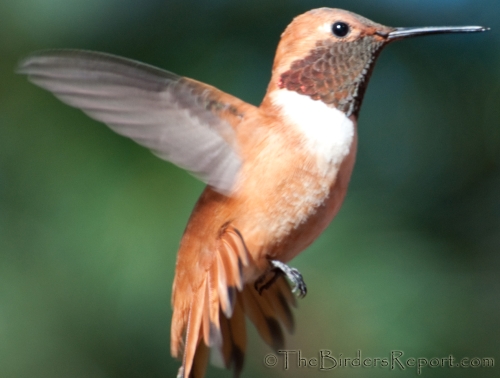 Rufous Hummingbird Male photos by Larry Jordan
The Rufous Hummingbird breeds farther north than any other hummingbird in the world according to Cornell Lab of Ornithology and we love to see them arrive every spring.  When I checked my hummingbird feeders the other day, I noticed that one of the feeders was not emptying as quickly as the others.  I thought maybe the sugar water had gone bad but that didn't make sense since I filled them all at the same time (and with the recent boom in my hummingbird population, they empty to quickly to go bad).
It took no time at all to solve the mystery.  A Rufous Hummingbird had taken this feeder as his own.  I watched as he aggressively fended off all other hummers in the area.  Here's a photo of the spunky guy showing off his beautiful iridescent orange gorget.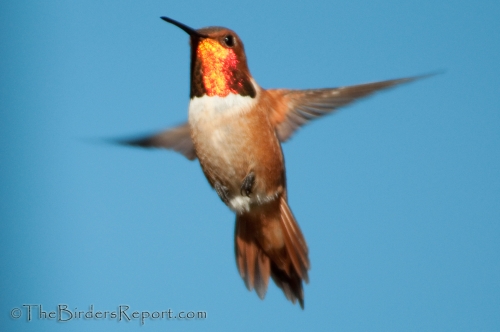 Even this female was feeding at the feeder on the other end of the porch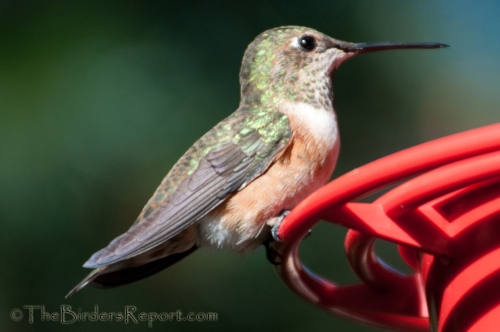 As I get more and more of these "jewels of the sky" at my feeders I have to refill them more often.  I have found a partial solution to this problem however with the 72 ounce hummingbird feeder by Best-1.  These very simple, very well made (in the USA) feeders are not only rugged, they have built in perches and 8 feeding stations to accomodate a large number of hummingbirds at once.
To find out when hummingbirds might be in your neck of the woods, check out Journey North where you can not only track their migration, you can contribute your sightings and get lots of cool information on hummingbirds.