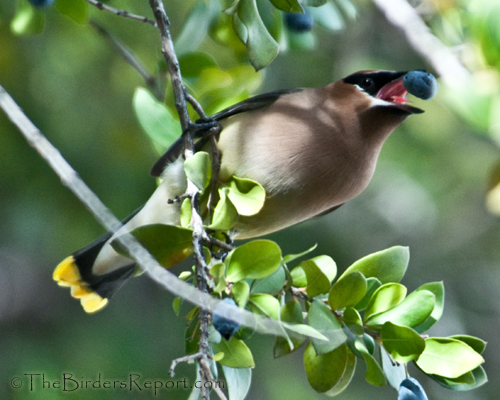 Cedar Waxwing Eating a Berry photo by Larry Jordan
Yes ladies and gentlemen, it is, once again, time for the Christmas Bird Count!  The 110th Christmas Bird Count begins Monday, December 14th and goes through Tuesday, January 5th.
If you have never participated in a Christmas Bird Count, you don't know what you are missing.  If you are new to birding, this is without a doubt, the best way to learn about birds and birding from experienced birdwatchers.
You see, the way it works is each count circle is 15 miles in diameter.  Groups of birders take different sections of this circle in which they count every bird they see and compile a list of species observed and the number of each species.
The count compiler divides the count circle into sections, assigning an experienced leader and several birdwatchers to assist each leader in identifying and counting birds in their section.  If you are new to birdwatching, this is one of the best ways to learn to identify birds and find out which bird species live where you live.
Find out more about the longest running wildlife census and get information on the 110th Christmas Bird Count here.  Click here to find out how the CBC helps birds and conservation.  And if you want to find the closest Christmas Bird Count near you go here and click on the Count Date Search button, choose your state, then click on the Circle ID link to get the local compiler's contact information.
If you love birds and want to do something to help birds and humans alike, participate in at least one Christmas Bird Count, you will be glad you did.  I'm lucky, we have four CBCs in my area 🙂  This is my favorite time of year!