Why create a National Wildlife Federation Certified Wildlife Habitat? There are several, very good reasons.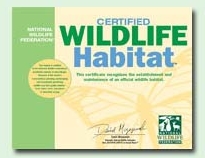 The first and most important reason is that it is fun for the entire family! Imagine bringing wildlife right into your own backyard and watching nature unfold before your very eyes.
One of the things I love most about my home is being able to look out my window and see, not only a huge number of birds and bird species, but also the other wildlife that we have attracted by having a Certified Wildlife Habitat.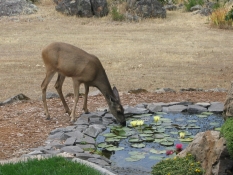 The first thing you will notice when you have a waterfall, pond or fountain for example, is that you will have more birds visiting your home because birds can't resist moving water.  You will also attract frogs, dragonflies, and mammals local to your area.
The next aspect of a Certified Wildlife Habitat would be food. When talking about birds, the first thing that comes to mind is bird feeders of course.  But this is not the only source of food for our birds.  The biggest source of food should be native plants like trees, shrubs, berries and native grasses.  Our bird feeders will supplement food found in the natural habitat.
The same philosophy applies to cover and places for wildlife to raise their young.  The best way to provide cover is to have plenty of  native vegetation available where wildlife can find protection.  Using native vegetation means very little maintenance, if any, is needed, saving you time and money.
In addition to native vegetation, supplying birdhouses or nest boxes is an excellent way to increase the bird population in your area.  Birdhouses can be made easily and inexpensively with good birdhouse plans or you can simply buy well made birdhouses to bring birdwatching to your backyard.
Sustainable gardening is also important in creating a wildlife habitat.  This would include techniques you can use to conserve resources.  Once again, planting native species, mulching and reducing lawn areas are a few excellent ways to start.
To see what you can do to create a Certified Wildlife Habitat, go to the National Wildlife Federation website and read all about it.  It all starts with us.  If we all do what we can to preserve habitat around our homes, we can help save natural habitat for future generations.