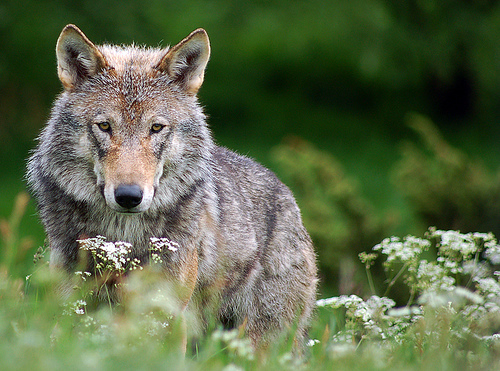 Gray Wolf (Canus lupis) photo courtesy of Rocky Mountain Tracking
Our environment is under attack by the United States Congress! Current members in the U.S. House of Representatives have cast the most anti-environment votes of any Congress in history.
You can read the minority report in its entirety from the U.S. House of Representatives Committee on Energy and Commerce here.
The conclusion of this report is:
The House was in session for 165 legislative days in 2011 and took 191 anti-environment votes during that period. On average, the House Republicans averaged more than one anti-environmental vote for every day the House was in session.
More than one in five of the roll call votes taken in 2011 – 22% – were votes to undermine environmental protections.
On average, 228 Republican members of the House – 94% of the Republican members – voted for the anti-environment position during these roll call votes.
On average, 165 Democratic members of the House – 86% of the Democratic members – voted for the pro-environment position.
The anti-environment votes included 27 votes to block action to address climate change, 77 votes to undermine Clean Air Act protections, 28 votes to undermine Clean Water Act protections, and 47 votes to weaken protection of public lands and coastal waters.
The Environmental Protection Agency was the target of 114 of these votes; the Department of the Interior was the target of 35 of these votes; and the Department of Energy was the target of 31 of these votes.
I don't know about you, but this kind of news scares the hell out of me! We obviously need to keep an eye on our elected officials and write letters or send emails to our representatives when they are doing the right things, and most definitely when they are doing harm to our environment.
When congress begins erasing the environmental safeguards we have been putting in place for decades and strips away protection for the planet's biodiversity, we need to act.
You can check out how your legislators are doing by checking this Conservation Report Card from Defenders of Wildlife. You can look up records of individual Congressmen both from the House and Senate on that page.
I found this cartoon from Joe Liccar depicting the U.S. Congress score card and thought it was way too generous.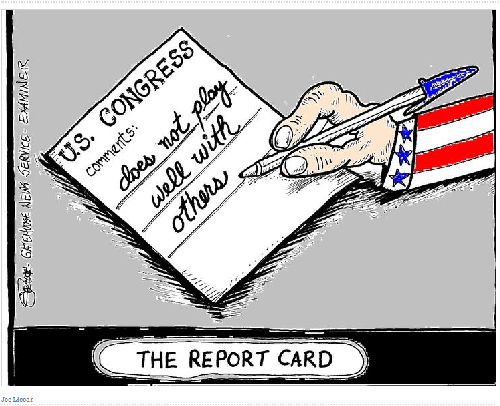 Personally, I would give them a FAIL!