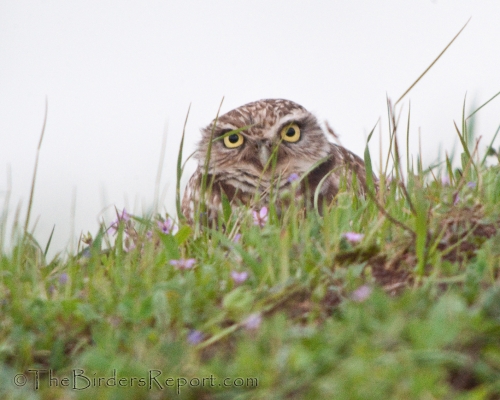 Burrowing Owl (Athene cunicularia) photos by Larry Jordan
I had the pleasure of seeing two Burrowing Owls (Athene cunicularia) at our artificial nesting site in Chico yesterday before giving a presentation for the local Audubon Society meeting on this species of special concern in California.  We have been seeing two or three owls at this site for over a month now so I am getting pretty excited at the possibility of having at least one breeding pair nesting this season!
I wanted to check on owls at two other locations before grabbing something to eat and heading over to the meeting location but it was getting rather dark with a big storm coming through.  I could see huge thunderheads to the East, with large amounts of water falling to the ground beneath them heading my way.
I headed North on Lassen Road toward our second Chico Burrowing Owl site with a quick stop at Singer Creek to see if there were any owls in the large piles of rocks along the creek bank there, but I struck out.  I did have some luck on Lassen Road though, catching a beautiful female Northern Harrier (Circus cyaneus) standing in the field along side the road.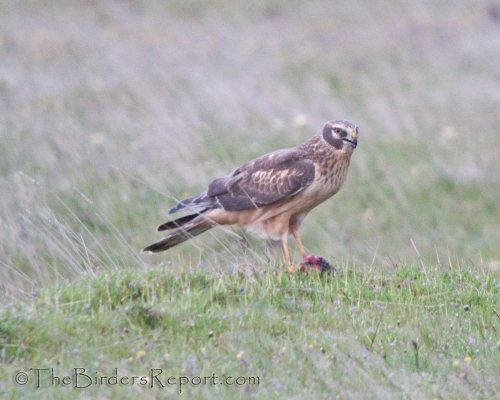 I could tell that she was feeding on some type of prey animal so I slowly stopped the car on the side of the road to get some photos.  I carefully attached the digiscope to the Groofwin and mounted it on my window.
I wanted to get some video of the event but shortly after snapping this photo, a huge pickup truck, with a cattle trailer clattering behind it, drove by at high speed scaring her away with her prey in talon.  What a beautiful bird.
A bit further down the road I had the fortune of spotting one of the many American Kestrels I had seen that day, sitting on one of the fence posts separating the roadway from the miles of open grassland.  I had been seeing them hunting the fields in their usual kiting fashion (a true joy to watch) but I had not been in position to photograph them.
I previously got lucky with a female American Kestrel (Falco sparverius) and now, here was a male sitting on a post, right next to the road.  The lighting was not the greatest with that big storm heading my way, it was actually beginning to wet my windshield when I took this photo, but I was happy to get it.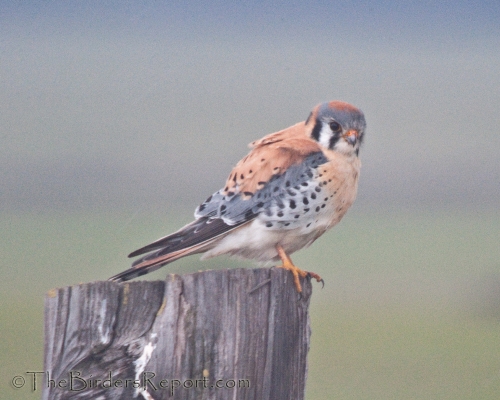 I moved on to check on the second Burrowing Owl habitat, behind the old school house, before the clouds really let loose.  Unfortunately, I saw no owl sign there.
With the rain coming down I headed to one of the premiere coffee shops in Chico and grabbed a cappuccino and a lemon bar.  I previewed my photos and relaxed for a bit before heading to the nature center for what turned out to be a wonderful evening with a great group of birders at the Altacal Audubon meeting.
If you really like great groups of birders and bird photographs, head over to World Bird Wednesday, you'll love it!