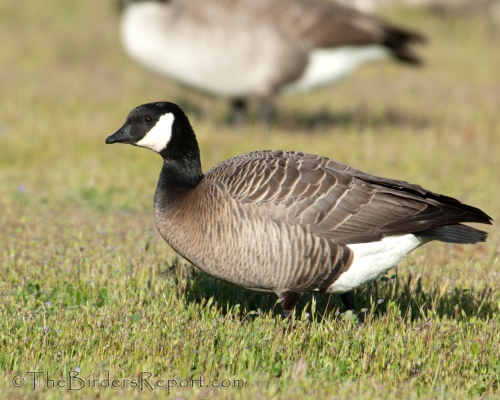 Cackling Goose (Branta hutchinsii minima) photos by Larry Jordan
Back in 2004, the 45th Supplement to the American Ornithologists' Union Checklist of North American Birds split the Canada Goose (Branta canadensis) into 2 species, the Cackling Goose (Branta hutchinsii) and the Canada Goose (Branta canadensis).
I took these photos back in April last year at Lema Ranch but never wrote a post showing the difference between these two species (click on photos for full sized images). Better late than never I guess!
The first thing that you would probably notice is the size difference between the Canada Goose and the Cackler. It seems obvious but if you don't see the two side by side, it's sometimes hard to tell.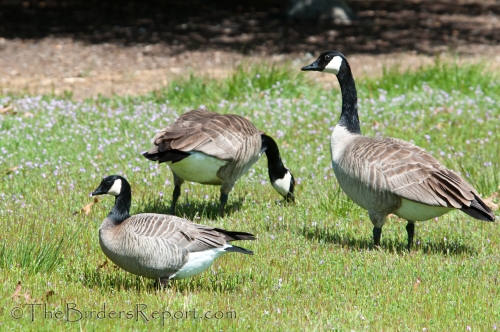 The Cackling Geese (Branta hutchinsii), the small bodied group which primarily breed in tundra, consist of four subspecies, Richardson's (or Hutchins's) Goose (B. h. hutchinsii), Taverner's (or Alaska) Goose (B. h. taverneri), Aleutian Goose (B. h. leucopareia) and Cackling Goose (B. h. minima).
The Cackling Goose and the Aleutian Goose are the two subspecies we see here in the Pacific northwest. The Aleutian Goose is larger, has a paler breast and has a thick white collar at the base of its black neck. Range map of all Cackling Geese species courtesy of Terry Sohl from South Dakota Birds and Birding.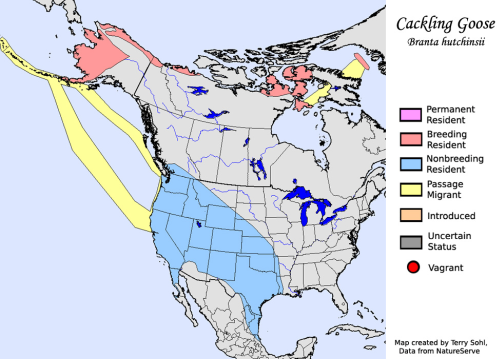 Within the species, there are trends in size from largest in the south to smallest in the north, and likewise in color from lighter in south and east, as well as in arid interior regions, to darker in the north and west1.
Note the dark breast, short black neck and short stubby bill on this Cackling Goose (B. h. minima), the smallest of the Cackling Geese, breeding in the far north western parts of Alaska.
Here is a photo of this bird with its neck fully extended.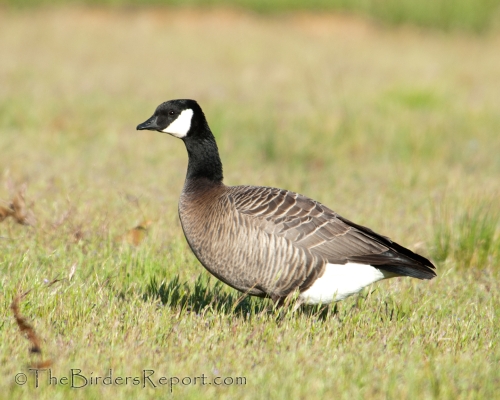 And another with its neck pulled in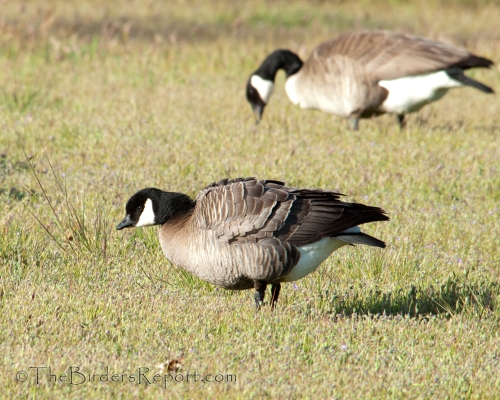 You can often find them in mixed flocks where the smaller Cackling Goose can be more readily distinguished from the larger Canada Goose.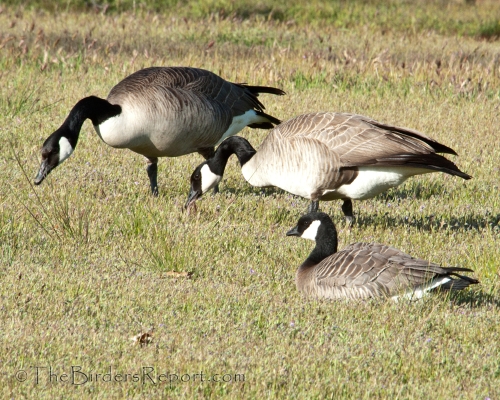 To see more great bird photos check out World Bird Wednesday! And while you're here, if you use Google Friend Connect, please consider joining my website via the widget in the right hand column of my blog and I will join yours in return.  Thanks for the visit!
References: 1Birds of North America Online