New York, NY and Ithaca, NY—Bird and nature fans throughout North America are invited to join tens of thousands of everyday bird watchers for the 12th annual Great Backyard Bird Count (GBBC), February 13-16, 2009.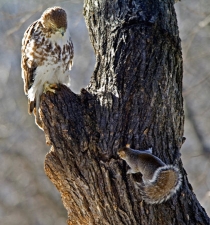 A joint project of the Cornell Lab of Ornithology and the National Audubon Society, this free event is an opportunity for families, students, and people of all ages to discover the wonders of nature in backyards, schoolyards, and local parks, and, at the same time, make an important contribution to conservation. Participants count birds and report their sightings online at www.birdcount.org.
"The Great Backyard Bird Count benefits both birds and people. It's a great example of citizen science: Anyone who can identify even a few species can contribute to the body of knowledge that is used to inform conservation efforts to protect birds and biodiversity," said Audubon Education VP, Judy Braus. "Families, teachers, children and all those who take part in GBBC get a chance to improve their observation skills, enjoy nature, and have a great time counting for fun, counting for the future."  Read all about it HERE.