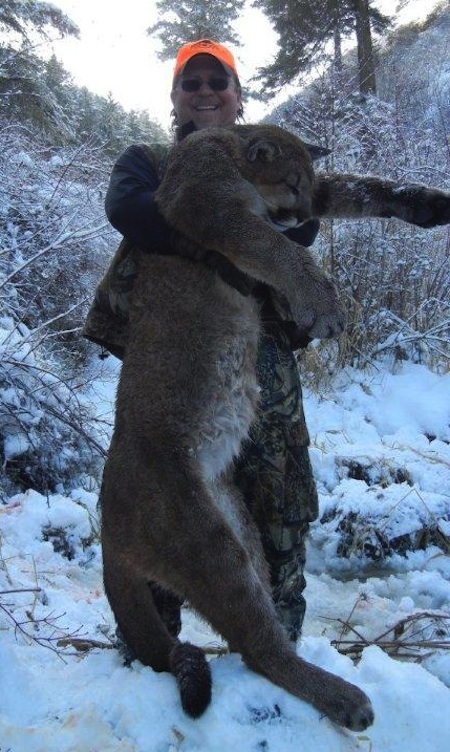 Dan Richards Posing with Dead Mountain Lion in Idaho
Daniel W. Richards, President of the California Fish and Game Commission, thought it was a good idea to book himself a hunt on Idaho's Flying B Ranch to kill a Mountain Lion (illegal to hunt in California). For a mere $6,800 you too can bag one of these beautiful lions. Here is the ranch's spiel:
"The sound a hound dog makes when running on the scent of a Lion is an experience that cannot be put into words. For those who desire a unique and fun-filled hunting experience, we offer fully-guided (2 guides per hunter) Mountain Lion hunts out of our luxurious 14,000 sq ft lodge during the months of December through March."
"Nothing in the outdoors compares to the superior disdain in the eyes of a Mountain Lion as his gaze catches yours. Every discerning outdoorsman should meet that look, and we are the best in the business at providing you with that opportunity. Using hound dogs, snowmobiles and snowshoes, we guide you into elk and deer wintering grounds in search of a fresh kill or lion track. From here is when the chase begins and we all hope it ends at the tree!"
"The superior disdain in the eyes of a Mountain Lion!" Are you kidding me?? This is something to strive for?
This is the guy in charge of the Fish and Game Commission in our state? As president, Richards can set the commission's agenda on a range of issues including endangered species protections, ocean fishing rules and all types of hunting regulations from rabbits to black bears. If he were to bring the dead mountain lion back to California from Idaho, he would be in violation of state law. I hope someone is checking his trophy room!
According to the Center for Biological Diversity, Richards has been hostile to protecting endangered species and has opposed marine reserves in California.
From the California Fish and Game Commission web page on Daniel Richards:
"President Daniel W. Richards, of Upland, was appointed to the Fish and Game Commission on February 14, 2008. Daniel is a graduate of West Virginia University. For the past 30 years, he has dealt in commercial real estate and real estate development. Currently he owns Coldwell Banker Commercial Inland Empire and has been one of the top 50 Coldwell Banker Commercial Brokers, worldwide."
From the story in the Silicon Valley Mercury News:
"Meanwhile, Richards is facing more political fallout. In 2010, his former business partner was indicted, along with three other men, on charges of bribery, conflict of interest, tax fraud, tax evasion, perjury and forgery. San Bernardino County prosecutors said the indicted men worked to corrupt public officials in connection with a $102 million settlement in a land development deal."
Why do we have a big land developer and lifelong member of the National Rifle Association (NRA) in charge of managing our wildlife resources?
The Center for Biological Diversity is asking our help in getting Daniel Richards off our Fish and Game Commission.  This incident simply shows him for what he is, a wealthy land developer who enjoys killing wildlife and has very poor judgement. Is that who we want managing California's wildlife resources?
The governor cannot remove any member of the Fish and Game Commission. However, the state Legislature can, with a simple majority vote. If this concerns you, please urge your state representative to remove Daniel W. Richards from this important post and replace him with someone who more appropriately represents the people of this state.
You can address your letter to your state representative right here. Please pass this on to anyone you know living in California that is concerned with sustaining our wildlife populations before March 1st. This commissioner does not represent my views! I hope he doesn't represent yours!
You can read more about the California Fish and Game Commission here.
UPDATE: 3/5/2012
This is the letter from the California State Assembly members to Daniel Richards (click on photo for full sized images of these documents);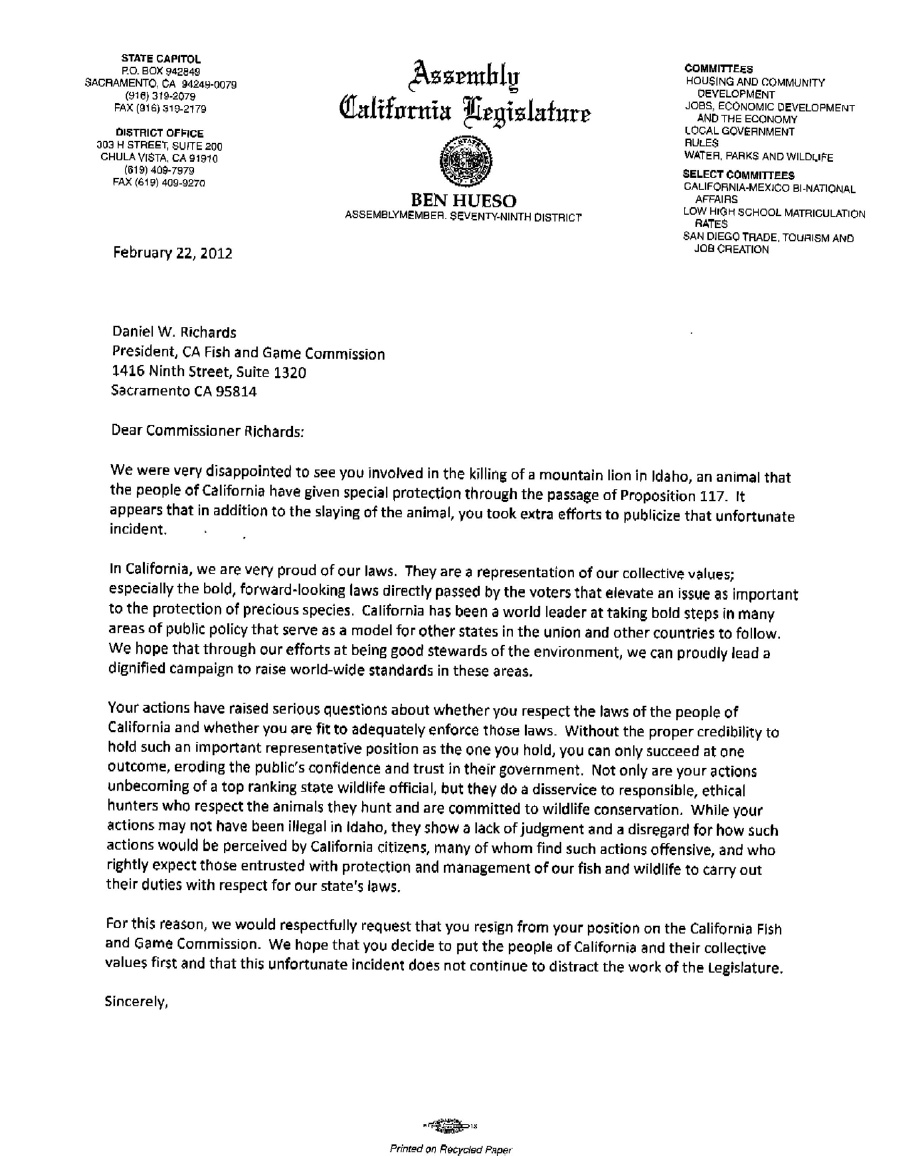 And this is Dan's response to that letter: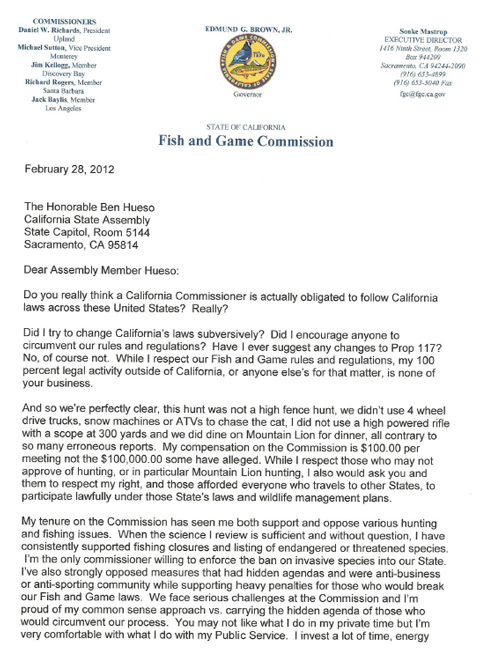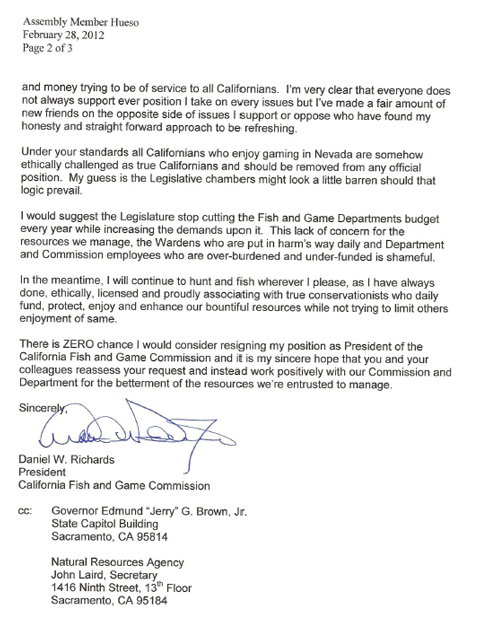 Thanks Ingrid for the heads up on the letters and Mia for the link to the latest info on Richard's "gift" of the hunt which he didn't pay for.