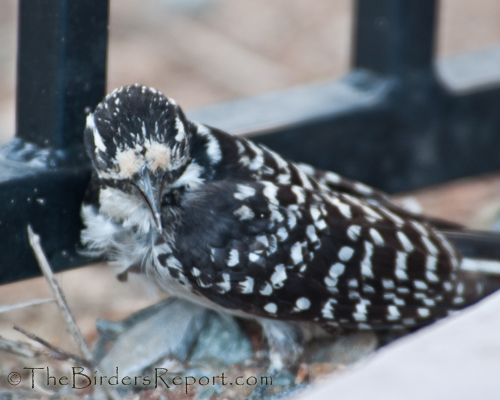 Nuttall's Woodpecker Female Injured photo by Larry Jordan
Friday, as I was getting off of work, my friend John, who had left just a few minutes before me, called and told me there was an injured bird in the parking lot right outside the hospital.  He found this female Nuttall's Woodpecker on the pavement, and being a bird lover, he attempted to move it off of the hot pavement.  When he did, she actually took a short flight to a cooler, safer spot in the shade below this huge wall of windows.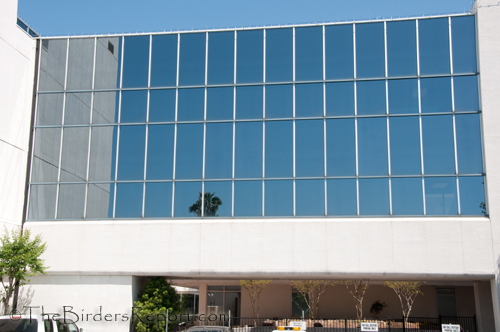 Large buildings with walls of windows are a major cause of bird deaths.  See my post on birds colliding with windows.
She didn't look good.  Her eyes were closed and she was panting.  We didn't know what had happened to her but she was hot and dehydrated.  We offered her water and allowed her to get her beak wet and take fluid at her own pace.  My guess is that she was stunned from colliding with the window.
When a bird collides with a window, you never know if it is simply stunned or has internal injuries so we decided to take it to the Shasta Wildlife Rescue and Rehabilitation center.  We are lucky to have this great resource right here in Shasta County.   Here is a picture of this little cutey as she arrived at the center riding in my hiking boot.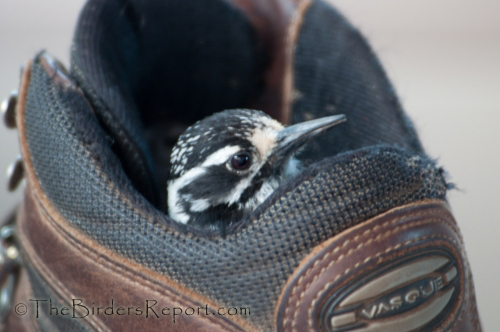 I left her in the excellent hands of the staff where she was checked for injuries and released the next day.
At this point, I bet you are wondering where the Ospreys come in right?  Well, the Shasta Wildlife Rescue Center is located in Anderson River Park, which is one of Shasta County's great birding hot spots, located on the Sacramento River.
This 440 acre park has some excellent birding trails and is one of the regular sites visited by the local Wintu Audubon Society for bird walks.  The park also has a pair of Ospreys building a nest atop one of the soccer field light towers and I thought I would stop by and check them out.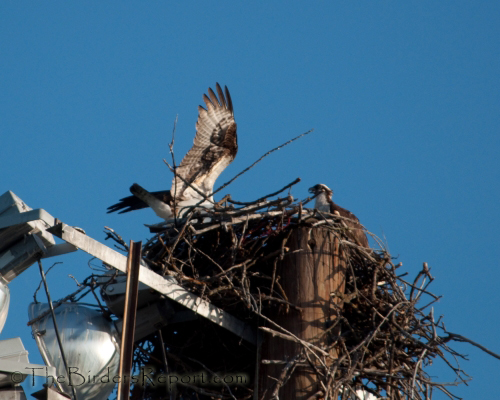 Osprey Pair In Nest Atop Light Tower
As I reached a good viewing location in a parking lot across from the nest, the Osprey pair were both in the nest, but not for long.  One of them (I believe the male) took off with part of a fish in its talon.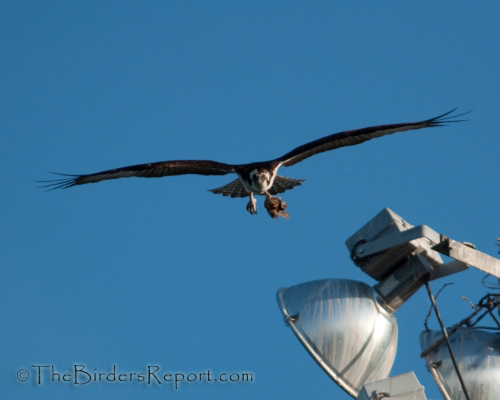 and flew over to the adjacent light tower to feed.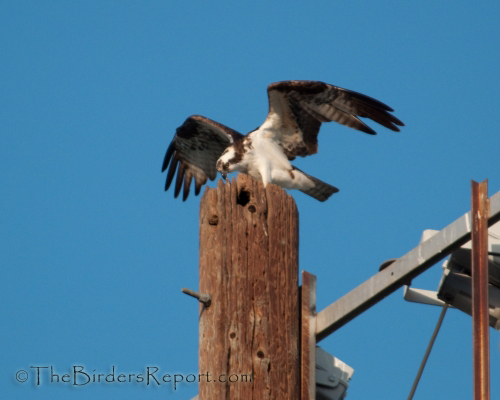 He was up there for over 45 minutes munching on that fish, with his mate vocalizing almost the entire time!  Actually, at one point, she flew out of the nest and came back a few minutes later with a stick for the nest.  I was told that this pair of Osprey mated back on March 5th and at least one chick has been seen in the nest.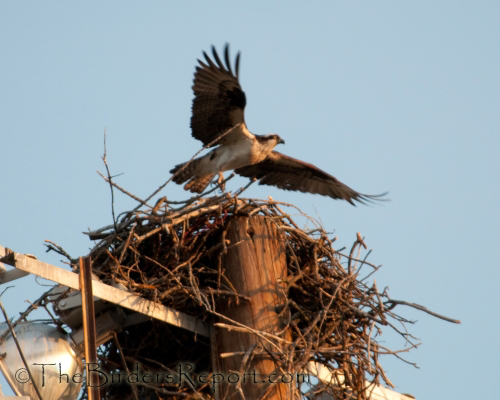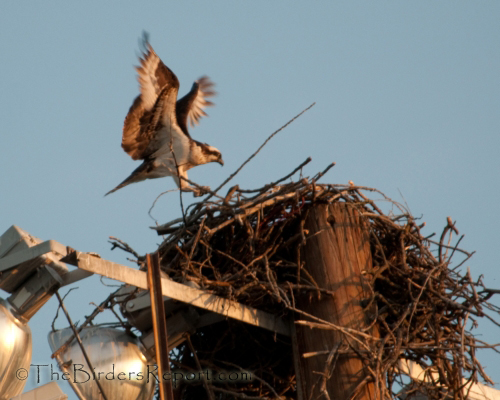 Finally, as the sun was setting, the male flew back to the nest with what was left of the fish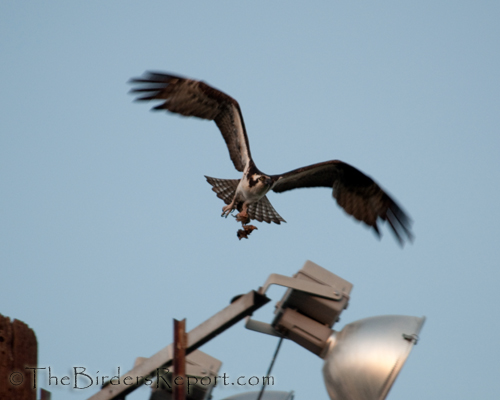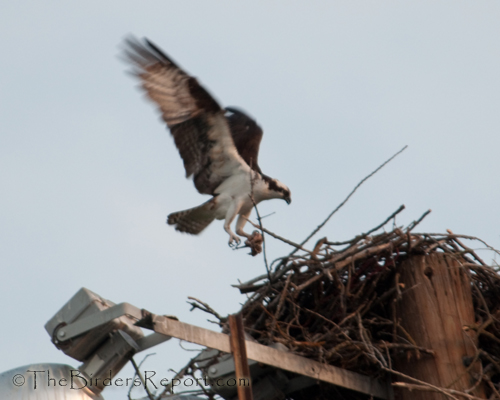 but it was too dark now to get good pictures and I had to get home anyway.  However, I will be returning to chronicle the exploits of this Osprey pair and document the raising of their young as the weeks go by.
Make sure you get over to Bird Photography Weekly to get your bird photo fix!