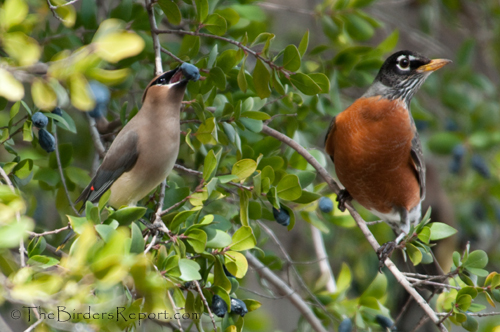 Cedar Waxwing With An American Robin photo by Larry Jordan
There was a flock of American Robins I noticed as I was exiting the parking lot at work, in an oak tree.  So I stopped to take some photos.  When I looked through the camera, I saw some Cedar Waxwings too.  I observed them for a few minutes and noticed that there were two separate flocks, hanging out together, flying back and forth across from the oak tree to some trees near the hospital building where I work.
I came out at lunch time with my camera in the hope of getting some more photos.  It was a gorgeous day and there were picnic benches right below this berry bush where I got many more good captures of both the waxwings and the robins.
If anyone out there knows what kind of berry bush this is, I would sure like to know.  It was about 12 feet tall and had these blue berries all over it that the birds were going crazy for.  I will post some of the shots of them scarfing down the berries later.
Go check out the other great photos at Bird Photography Weekly!