In these hurried and hectic times it is important for humans to, once again, get connected to nature.  What better way to relax and enjoy the world than to witness the natural behavior of the animals around us unfold before our very eyes.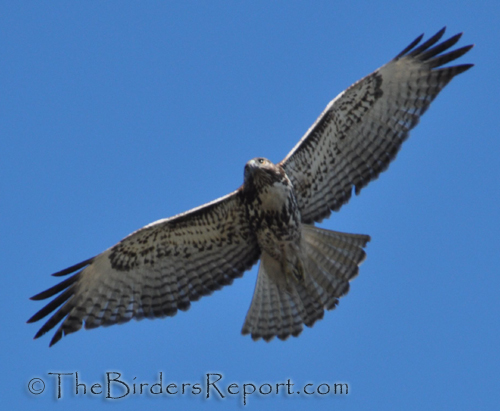 Birdwatching allows us all to get closer to wild nature in our own backyards and everywhere else on the planet.  As you will see from this inspiring collection of thoughts, images and experiences, anyone can reconnect with nature anytime, anywhere.  Just let your spirit soar!
Dave Pollard over at How To Save The World starts off today's blog carnival with a beautiful poem about the Chickadee
Feel the excitement Kimbery Allen experienced when she discovered the joy of birding as she tells a tale of the "Mid Life Birder" at Kitchen Window Birder
Say happy birthday to Michelle over at Rambling Woods as she shows us that even in the dead of winter, the joy of birdwatching warms us inside
I know catering to the birds in Richard Atwater's backyard warms him on the inside as he ponders that he just might be a pastor.   You can see his choir At The Water
Join John Beetham as he and his Mom take a birding trip around South Jersey at A DC Birding Blog.  Enjoy them as they visit Brigantine and Villas.
Beverly Robertson takes a trip to Round Valley Reservoir to see an Eared Grebe from Behind The Bins.  An eared Grebe in New Jersey?
Stony Lake Birds unfolds an interesting story of one stray rail on the streets of Ontario.  Michael weaves a tale of the Purple Gallinule.
From The Greenbelt, somewhere in Maryland comes Karen with some interesting sightings of birds in Washington.
Do you know what Tucson's most famous raptor is?  According to Rick Wright at Aimophila Adventures, it is the Short-tailed Hawk.  A bird that you could spot on your lunch break.
Many people realized this weekend, as they counted birds for the Great Backyard Bird Count that you don't even need to travel far to see several species of birds.  After all, the majority of birdwatchers began their interest in birds in their own neighborhoods.
Eric and his entire family take local birding very seriously at Neighborhood Nature.  Eric explains all about "Bigby" birding which is short for Big Green Big Year, which is low carbon footprint birding.
Take Karen for example of Rurality.  She has realized that she can not only catch shots of a Yellow-bellied Sapsucker out her living room window, she doesn't even have to get off the couch as she explores arm chair birding!
After reading Karen's post, you may be wondering what might constitute your "backyard"?  Take it from Nate at The Drinking Bird, that subject may be a bit subjective as he explores extreme yard listing.
Mike "noflickster" over at The Feather and the Flower probably has a similar view of the nation's backyards.  You see, he is one of the guys that looks at the bird distribution maps at the Cornell Lab of Ornithology.  He has the maps of the amazing explosion of Pine Siskins this year for the GBBC.
I sure had no problem finding Pine Siskins in my backyard.  As you can see, I had a plethora of Pine Siskins bathing in my waterfall this last weekend.
All this talk about Pine Siskins is making me feel kinda badly for Patrick Belardo at The Hawk Owl's Nest.  He actually had to travel to see the Pine Siskins!   Don't feel to badly for Patrick though, he has posted some great captures of the Pine Siskins using his new tripod he got for Valentine's Day.
And Eddie Callaway over at Birdfreak is asking, is this a finch invasion year?  He not only has Pine Siskins but Common  Redpolls and White-winged Crossbeaks (although he is still looking for a Hoary Redpoll which are suppose to be plentiful in the Chicago area).
Seabrooke Leckie, wandering the woods in eastern Ontario had no problem finding the Hoary Redpoll, the problem may be identifying them.   Her post at The Marvelous In Nature will help you discern the differences between the Common and Hoary Redpolls.
Another fine birder and artist helps us try and sort out the House Finches from the Purple Finches from the female Pine Siskins in these combined flocks of invading finches.  Vickie Henderson (our last IATB host) is stuck on finches over at Vickie Henderson Art.
There were a few more backyard bird counters this last week who sent in some reports on birds they counted other than Pine Siskins , if you can believe that.  What the heck are they thinking?
Monika Wieland of Orca Watcher fame counted 44 species in five hours for her GBBC.  But that's not the best thing that happened for her that day.  Go see what her 311th life bird is that she witnessed during her count!
And the Ladder-backed Woodpecker was the object of great joy as he posed for James Brush, the accomplished author of Coyote Mercury and many other excellent works.
In the meantime, Paul, who lives over the pond in the UK, was counting for The Big Garden Birdwatch put on by an organization called the Royal Society for the Protection of Birds (RSPB).  At his blog, Little Brown Job,  he shows us excellent photos of a Goldcrest, a kinglet similar to our Golden-crowned Kinglet.
You know, when you think about it, someone else's backyard is our exotic birding trip destination.  Everywhere you go there are endemic bird species that other birders from around the world would love to see while we can be overheard saying, casually, "oh, it's just another Yellow-billed Magpie."  We need to appreciate all the avian fauna we are privileged to observe, whenever we see it.
Consider the Oriental Darter posted by Ambika Chandrasekar, aka "Flowergirl," author of Madras Ramblings.  Here is a bird that (according to wikipedia) is near threatened and yet is so common in her part of India that she caught herself taking it for granted.  But no more.  See the Darter as it catches fish and…
Visit Gallicissa where Amila Salgado, who leads birding tours in Sri Lanka, gives us unparalleled views of the Black-backed Dwarf Kingfisher and the endangered endemic Serendib Scops Owl, among other exceptional creatures of his Top Ten Natural History highlights of 2008
Then wander over to Trevor's Birding blog in Australia to see the Gang-gang Cockatoos that Trevor Hampel has put up for your viewing pleasure.
And while you're down under, check out Duncan's post at Ben Cruachan with some great captures of terns, gulls, a White-bellied Sea Eagle and a Brown Falcon.
Talking about "down under," I don't know many folks who have ever been to the Falkland Islands do you?  Actually, I don't know anyone who has been there, you see the Falklands are at the tip of South America, about 300 miles from the Argentinian coast.  Well, I guess I do know someone who has been there…
Alan Henry has been living in the Falklands since 1987.  He had a very profitable day Birding In The Falkland Islands.  Showing his guests some fantastic birds including the King Penguin!  Ever see one of those close up and personal?
Over at Friendly Animals, you can catch some real close up and personal photographs from Delson Roche.  He's got some beautiful close ups of Indian Rollers today.
And one of my favorite bird photographers is Klaus over at Virtua-Gallery who I requested for my presentation of IATB 94.  His photographs are truly extraordinarily beautiful and I urge you to go see for yourself as he introduces his signature series.
"If Looks Could Kill" is another amazing photographic series by Thomas who invites us to Walk The Wilderness with him in India.  You will want to take a look at these raptors as they look right back at ya!
John Briggs is longing for spring from his frozen place Birding In Maine.  Why is he longing for spring?  So he can once again see the gorgeous birds that grace his spring landscape.
Up in Iceland, Chris has an unusual way to get interesting bird photos.  At Chris' Photo Nature, he shows us some great bird captures of the wrong side!  Yeah, the wrong side of the bird.
You know I have been talking a lot about backyard birding because of the GBBC that just passed (make sure to get your counts in) but some people, by the grace of God, luck, or pure persistence, enjoy traveling to remote locations and far off places to see birds of all kinds.  Let's do some bird exploration, conservation and maybe some scientific study too.
We all know Mike Bergin the originator of I And The Bird over at 10000 Birds.  Mike is getting ready to go to one of the most beautiful places on Earth, Guatemala.  He shares with us photos of his last trip there with Gallinule on a wire.
My friend Amber Coakley over at The Birders Lounge is going to tease you with the intro to her trip to Bosque Del Apache.  While you are at her blog, make sure to check out her "Do Something" pledge in the right sidebar.
Wanna know how to get to Deadhorse Alaska?  Ask Wren as she takes us on a trip via Wrennaissance Reflections to snag another lifer that was lurking in the pond behind her motel room.  You never know when you are going to find a lifer.
Let's go to Mexico with Christian Artuso as he explores the grassland habitats of this tropical savannah ecosystem at Christian Artuso: Birds, Wildlife.
The first time I went to the Bird Ecology Study Group I was immediately impressed with their welcome message which states, "You can know the name of a bird in all the languages of the world, but when you're finished, you'll know absolutely nothing whatever about the bird… So let's look at the bird and see what it's doing – that's what counts.  I learned very early the difference between knowing the name of something and knowing something."  For me, studying the behavior of the birds is essential.  That is what gives you the insight into what and why they are doing what they do.  Enjoy their informative post on "Bathing Birdies."
Then head over to Barbara Dunn's blog My Bird Tales to read an incredible post in search of Short-eared Owls.  You don't want to miss this post as Barb draws you into the beautiful world of the Short-eared Owl and the Northern Harrier Hawk.
Another must read tale of unbelievable bird behavior comes from Daniel Brown aka "Irradiatus" at Biochemicalsoul.  He has captured some exquisite photos and video of herons feeding in Durham, North Carolina.
Over at Two Birders To Go, Bob Kaufman tells us a Valentine story of he and his wife Cynthia as they witness a splashdance.  The courtship display of the Western and the Clarks Grebes.
Sally White asks us if we care to take a dip in the icy mountain streams of Colorado.  Brrrrr.  Come see the Water Ouzel (commonly known as the Dipper, but I love Ouzel) as it walks the bottom of the stream bed looking for treats at Foothills Fancies.
Nick Sly of Biological Ramblings has a very intriguing story of the cruel lords of the bovine.  Did you know that some birds can control the behavior of cattle hundreds of times their size?
For the scientific and conservation wrap up of I and the Bird 94, we have an excellent book review of Jonathan Rosen's "The Life of the Skies"  from Arj over at Science On Tap.
Carrie Laben posts a thoughtful critique of the state of the environment at Great Auk entitled "glass houses, plastic bottles, paper cups."
As a tribute to Charles Darwin's 200th anniversary, Greg Laden (who I believe is a graduate of Harvard's PhD program) has presented some information about Rheas and the Birth of Evolutionary Theory on his blog, aptly named Greg Laden's Blog, that is very enlightening.
Quintus aka Owlman is asking for your thoughts on owl baiting.  Something I knew nothing about until I read his post at Owl Box: Birding Blog.  Go read up on this practice and give him your thought on this very important question.
A fantastic conservation post that is near and dear to my heart is given to us by Beth Hunter as The Bufflehead Birder.  If you want to see some up close, gorgeous photographs of Saw-whet Owls and find out what's going on to help these little owls find homes, GO READ THIS POST and if you love owls, click on the link to adopt a Saw-whet Owl of your very own.  Come on, it's only $30 and you get all kinds of cool stuff!
I hope you all enjoyed the IATB 94th edition!  Make sure you get your next IATB post over to Connie Kogler (zblueheron AT gmail DOT com) at Birds O' The Morning before the deadline, way before the deadline if at all possible 😉 for IATB #95.  Until then, Happy Birding!