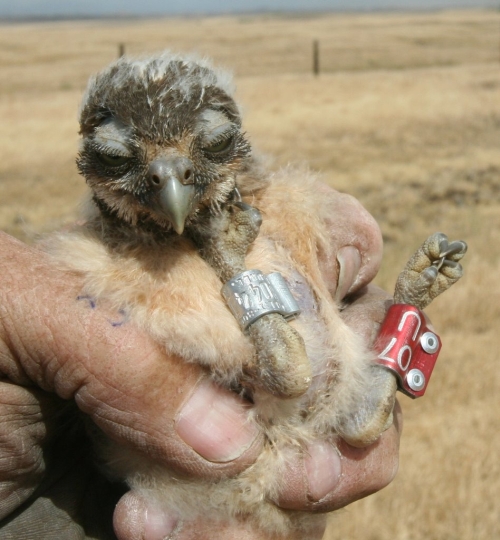 Is This One Of The Cutest Chicks You Have Ever Seen?
Just look at those "eyelashes"
This Burrowing Owl chick that my friend Steve is holding here has been banded with two different bands.  The one on the right leg is a #4 federal leg band and the one on the left is a red anodized auxiliary marker used to identify individual birds form a distance.
Bird banding is a universal and indispensable technique for studying the movement, survival and behavior of birds.  Wild birds are captured and marked with a uniquely numbered band or ring placed on the leg.  The bander records where and when each bird is banded, how old it is, what sex it is, and any other information and sends those data to the Bird Banding Laboratory.
Information from bands subsequently found and reported to the Bird Banding Laboratory provides data on the distribution and movements of species, their relative numbers, annual production, life-span and causes of death.  This information increases our knowledge and understanding of birds and their habits and assists us in their management and conservation.
For more information on bird banding go to the Patuxent Wildlife Research Center.  In the meantime, here is a short Burrowing Owl video
And a photo of the male Burrowing Owl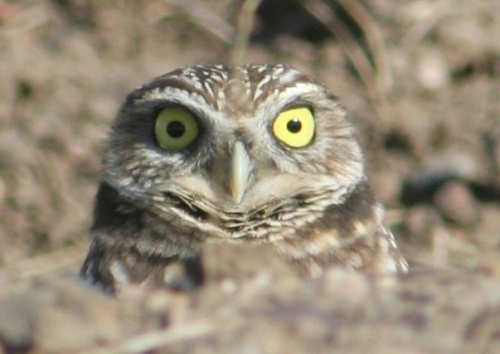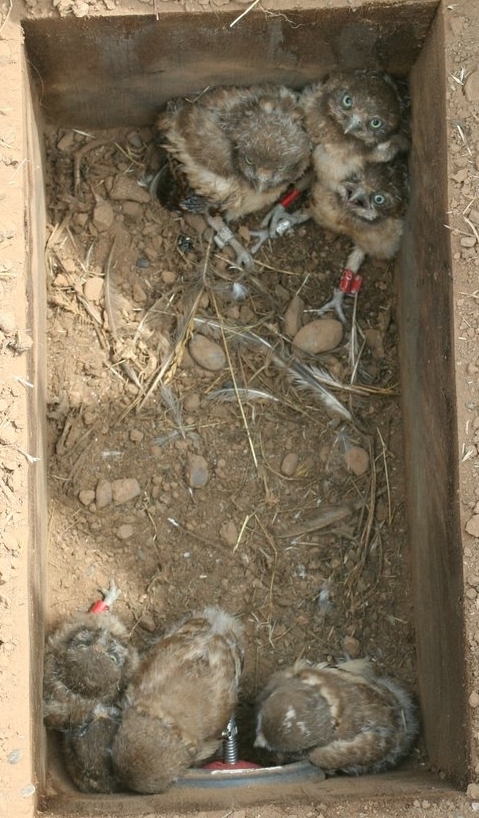 Banded Burrowing Owl Chicks In The Nest Box
Artificial nest boxes are being used to bring burrowing owls back from their declining numbers in California, with the help of the California Burrowing Owl Consortium.  This is a wooden nest box Steve built out of 1 1/8″ thick plywood.  It measures 24″ L x 11″ W  x 12″ H and is buried with 12″ of soil covering the box.  An 8 foot piece of 4″ corrugated plastic pipe, with a 90 degree bend, is used as the tunnel to the surface.  See my burrowing owl nest box plan using an irrigation valve box here.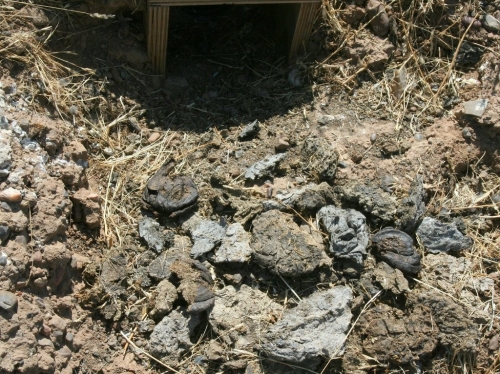 Burrowing Owl Nest Entrance Complete With Cow Dung
This photo shows the burrow entrance with cow dung placed strategically by the owls to attract one of their favorite foods, the dung beetle.  It was first believed that this was done to help mask the smell of the young down in the burrow to detour predators from smelling them, but studies have shown that this is a technique the owls have learned to use to attract the dung beetles to them.
Steve places the burrows in blocks of four, about 75 yards apart.  He was able to band 12 young burrowing owls last year and we are all hoping for these numbers to increase in the future.
I am working on a proposal with the Audubon Society to place nesting boxes for the burrowing owl here in the Redding area of northern California.  I'm not sure if we will be able to do anything in time for this years breeding season but we hope to have several nesting sites operational by next year.