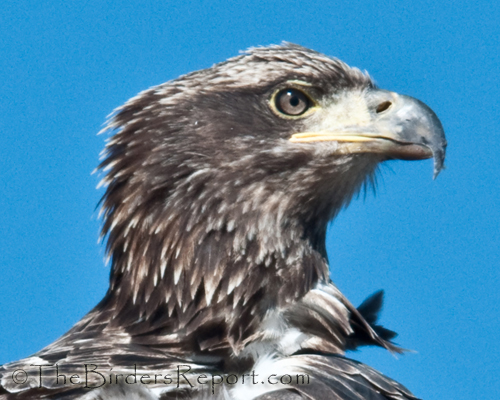 Juvenile Bald Eagle photo by Larry Jordan
How would you like to win a "Journey to Peru's Tambopata National Reserve?"  Well, that is just one prize in the Audubon Magazine Photography Awards: Birds In Focus!
New York, NY – Audubon magazine is launching the 2009 Audubon Magazine Photography Awards: Birds in Focus, created to celebrate the beauty and diversity of birdlife through the art of photography, and to honor the exceptional work of talented professional, amateur and youth photographers from all over the U.S.Audubon will be accepting submissions online until July 15 in three categories: Professional, Amateur, and Youth. Photographers are encouraged to reveal a new angle or perspective in their work. "Think creatively," advises Audubon's design director Kevin Fisher, one of the judges. "Originality and drama rank high at Audubon. Include tight shots, such as close-ups of eyes, feathers. We welcome uncommon perspectives."
Other judges include renowned wildlife photographer Joel Sartore, a regular contributor to Audubon and National Geographic; Kim Hubbard, longtime Audubon photography editor and an accomplished photographer in her own right whose work featuring the birds of Bonaire is currently on exhibit at the Greenwich (CT) Audubon Center; and Steve Freligh, publisher of Nature's Best Photography.
The Award winners will be announced in December and will see their work showcased within the pages of both Audubon and Nature's Best Photography magazines, as well as on their respective websites. An impressive array of prizes will be awarded, including top-of-the-line photo and optic equipment from award sponsor, Nikon. Prizes include:
Journey to Peru's Tambopata National Reserve (Inkaterra Amazonica Lodge)
An ultimate birding safari to Australia's "Top End," the Northern Territory
14-day Tropical Rivers and Rainforest cruise through South America (Travel Dynamics International)
Opportunity to travel to Honduras with Audubon wildlife photographer Roy Toft as your photographer/guide (Roy Toft Photo Safaris and Pico Bonito Lodge)
A Nikon D80 digital SLR camera, 18-55mm NIKKOR VR lens, and a set of Nikon EDG 8×32 binoculars
Submissions: Accepted May 15 – July 15, 2009. Up to 10 images per entrant. For details, visit www.AudubonMagazinePhotoAwards.com
Audubon magazine, the flagship publication of the National Audubon Society, has been connecting people with nature for over 100 years, and has been recognized with an impressive number of photography, design and editorial awards, including:
ASME National Magazine Award Finalist: General Excellence
ASME  National Magazine Award Finalist: Design
Communications Arts Photography Award of Excellence
American Photography Award
Photo District news (PDN) Award
Ozzie Platinum Awards for Photography
CONTACT:     Delta Willis dwillis@audubon.org. 212 979 3197