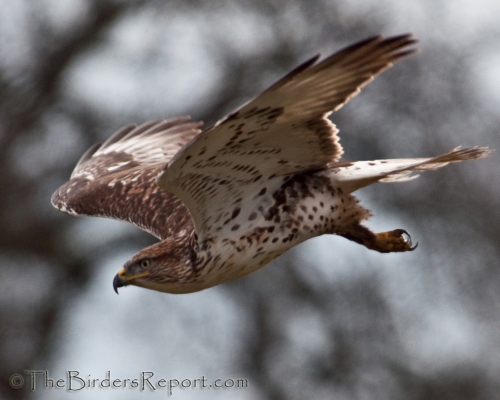 Ferruginous Hawk, 400mm, f/6.3, 1/1600 sec, ISO 320
Another year is coming to a close and I thought it would be fun to post some of my favorite bird photos of 2010.  It was not easy selecting photographs for this post.  I began going through my pictures and found some I had forgotten that I took!
Ferruginous Hawks winter here every year in the oak savanna along Oak Run Creek, about five miles from my home.  The photo above was taken on January 9th and I just saw my first Ferruginous Hawk of this winter today.  They feed almost exclusively on rabbit in the west, and east of the continental divide, prairie dogs and ground squirrels1.
I also discovered that I was sometimes partial to the photo of a bird that I really enjoyed photographing or was surprised that I had been given the opportunity to observe, even if the photograph was not technically the best.
All photos were taken with my Nikon D90 unless otherwise stated and the camera settings are listed below each photo.  Click on the photos to see the full sized images.
This next shot was taken at the Sacramento National Wildlife Refuge on February 27th.  When I first began photographing birds, I was so excited to get a glimpse of a Marsh Wren, I never imagined I would one day be able to photograph the male building a nest.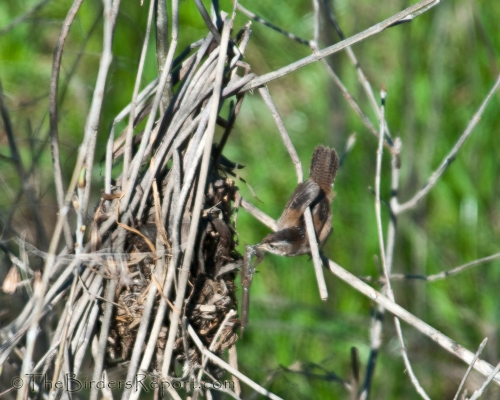 Marsh Wren, 360mm, f/5.3, 1/500 sec, ISO 200
To make it easier to organize, I am posting a photo for each month of this year.  The photo I chose for March was taken in my back yard.  One of my first attempts with my digiscoping setup.  It is a male House Finch, one of the many that visit my feeders year round.
The digiscoping setup uses a 50mm lens and usually I use a 2.0 f-stop setting to allow the maximum amount of light through the lens.  You will notice that some of the shots taken through the scope will have a high ISO setting.  This is sometimes necessary in low light conditions to obtain a fast enough shutter speed.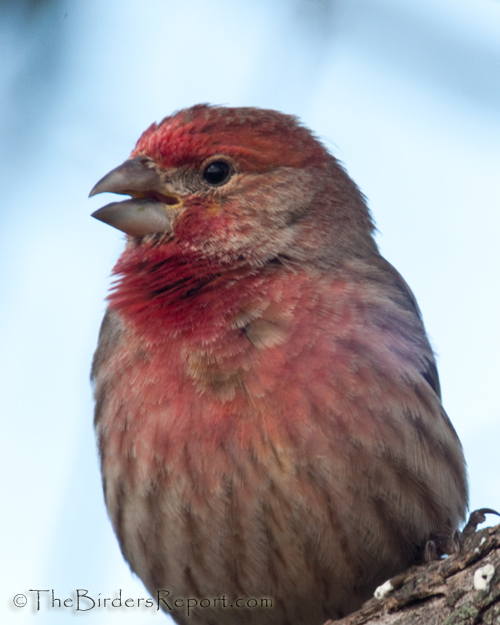 House Finch, 50mm, f/2.0, 1/160 sec, ISO 640
April of this year was the first time I got a really good look at a Sora.  Lema Ranch seems to be a good location to observe this rail and some others you may have seen in previous posts.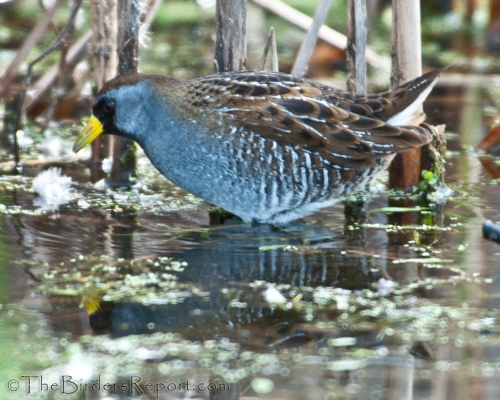 Sora, 400mm, f/5.6, 1/200 sec, ISO 320
I take more and more bird photographs as we come into the spring and summer months and mating when nesting behavior reach their peaks.  May was a tough choice month but I decided on this male Western Bluebird that was watching me as I checked on his nest box at Lema Ranch.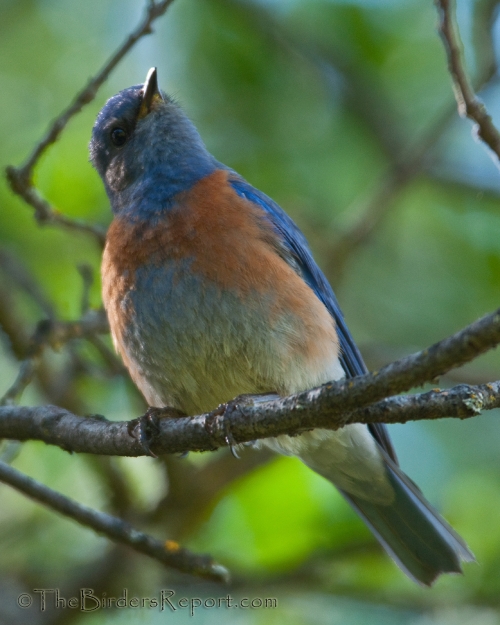 Western Bluebird, 310mm, f/5.3, 1/250 sec, ISO 400
Every year, in June, Wintu Audubon schedules a camping trip to Lassen Volcanic National Park.  It's a great place to bird with around 216 species of birds observed in the park, 96 of those species known to breed there.  I found this Pygmy Nuthatch feeding its nestlings at Manzanita Lake.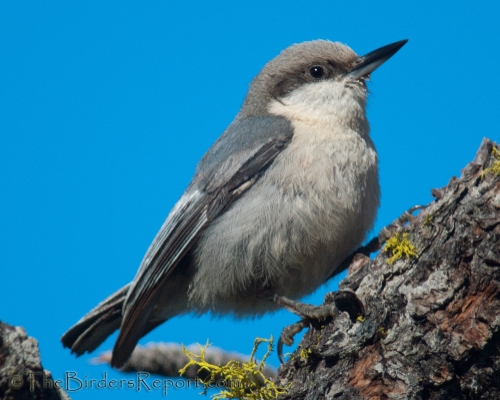 Pygmy Nuthatch, 50mm, f/2.5, 1/640 sec, ISO 3200
We have several Osprey that nest in Shasta County, mostly along the Sacramento River and at the many lakes that dot the northern California map.  This mother was shielding her young from the hot July sun as they waited for dad to bring them some lunch.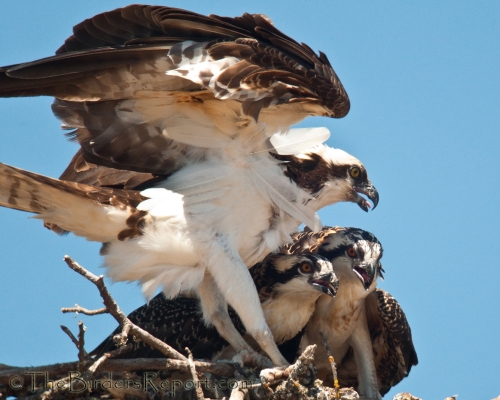 Osprey, 50mm, f/2.0, 1/500 sec, ISO 1250
One nice day in August I got out of work early and found a Green Heron fishing and preening at Turtle Bay, another great birding spot here in Shasta County.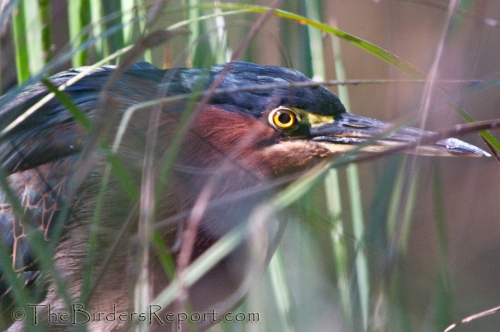 Green Heron, 50mm, f/2.0, 1/125 sec, ISO 3200
I really enjoy being able to watch birds from my back porch.  I have several bird feeders set up and a water feature that attracts birds year round.  This entry of a juvenile female Acorn Woodpecker for September was part of a post titled "Portraits From The Porch."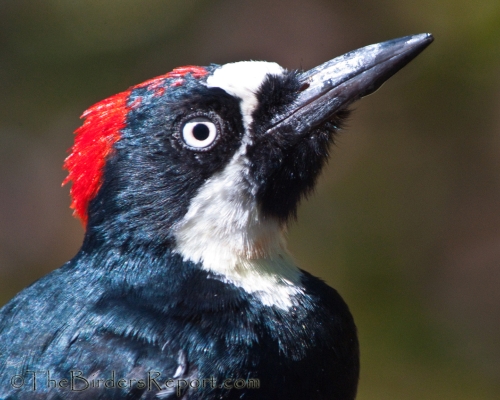 Acorn Woodpecker, 50mm, f/2.0, 1/250 sec, ISO 2000
October gave me several choices in my bird photo bank and I finally decided on this Western Scrub-Jay taken in my yard.  I really like the detail in this picture and it shows the birds color very well.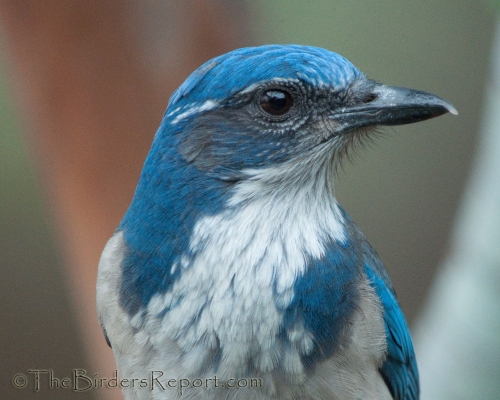 Western Scrub-Jay, 50mm, f/2.0, 1/80 sec, ISO 3200
I chose this photo of an American Kestrel partly because it is one of my bird photography nemesis birds.  Whenever they see me coming, they take off before I can even raise my camera.  The other reason I included it is because I love the beauty of this species and I get to see it perched on the wires nearly everyday as I drive to work.
This sub-optimal image was taken at Lema Ranch, high upon a prominent snag where you can almost always find an interesting bird perched.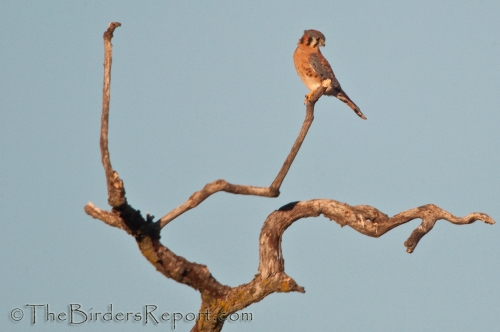 American Kestrel, 50mm, f/2.2, 1/500sec, ISO 800
Since I haven't downloaded any images from December yet, I will leave you with one of my favorite photos of my favorite raptor, the Burrowing Owl.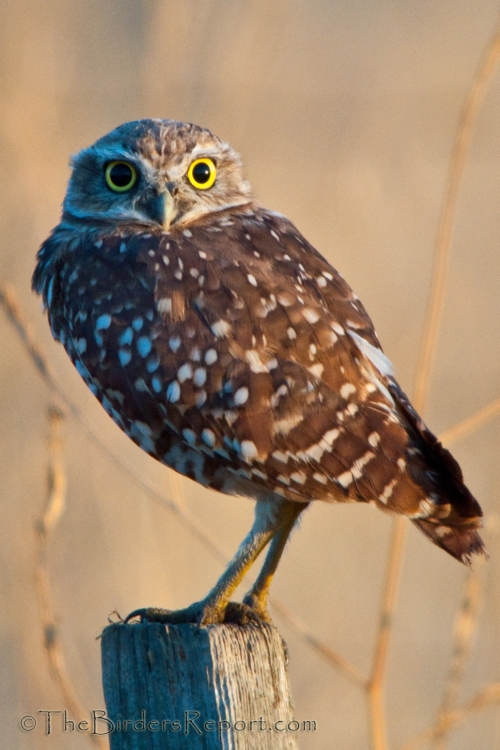 Burrowing Owl, 50mm, f/1.8, 1/100 sec, ISO 640
Please take the time to read my previous post and help us out by signing our petition to save this beautiful bird.
To see more great bird photos and read some excellent posts, check out Bird Photography Weekly.  On Wednesday, check out World Bird Wedneday, then on Thursday it's I and the Bird at Peregrine's Bird Blog.  Enjoy!
References: 1 Birds of North America Online